Rock music is a business. I understand that. I know that Bob Dylan would never have been able to deliver his revolutionary messages to the youth of the world if he hadn't been signed to a giant multi-national music conglomerate. (One which I worked for at one point in the 80s) So, I get it. That's why they call it the music business.
Ludicrous Venue Names
However, it seems to me that things have gone thoroughly beyond a joke with the ludicrous names being foisted onto music venues because of the quick cash to be made from selling naming rights. There was a time when rock venues sported names that meant something. The Fillmore in San Francisco was named for the area in which it was built and from which most of the patrons it served came. New York's legendary Shea Stadium was named after William Shea, the man who brought National League baseball back to New York in 1962. There was (and still is) a flavour of nature and Canadian heritage about Maple Leaf Gardens in Toronto, and The Spectrum in Philadelphia was somewhere that any musician could feel good about playing in, even if only because Spectrum is a good, evocative word, suggestive of the colours of the rainbow and beyond.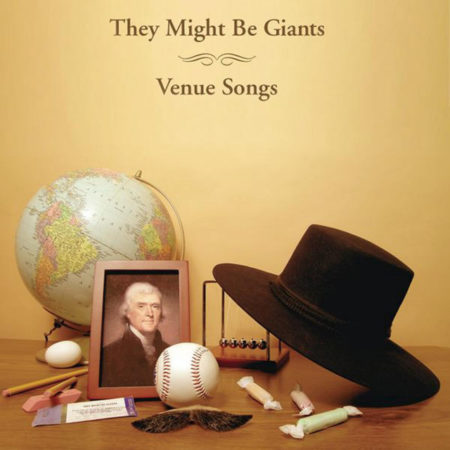 One of my favourite bands, They Might be Giants, released an album in 2004 called Venue Songs, in which each song was about a different venue, places like The Stone Pony, The Blue Note or Toad's Place. I like to think that they, like me, feel there's something romantic about those kinds of venue names. Motorhead, of course, named their 1981 live album No Sleep Til Hammersmith, helping to immortalise London's celebrated Hammersmith Odeon, and countless live albums boast names like James Brown – Live At The Apollo (1963), The Beatles – Live At The Star Club (1962) or The Velvet Underground – Live At Max's Kansas City (1972), where the very venue name bestows a certain magic to the title.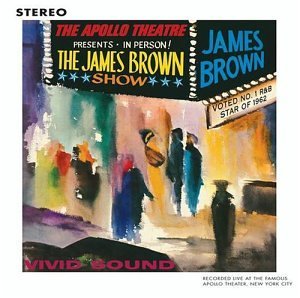 Stupid Food-related Venue Names
Today any major artist touring the USA could find themselves playing in the KFC Yum! Centre in Louisville, Kentucky, a 22,000 seater barn named after the KFC restaurant chain and Yum! Brands, which is the parent company of KFC. Me, I remember the days when the New Musical Express wrote an obituary of KFC founder Col. Sanders and gleefully headlined it, "He's Finger-Lickin' dead!" Harsh? Maybe, but those were the days when there was a healthy disrespect among the more evolved members of the human race for Fast Food. Today, it seems that fast food is perfectly acceptable to the rock'n'roll biz, especially if it lets some minuscule percentage of its filthy lucre trickle down onto the heads of the hapless kids who step through the doors of venues like The KFC Yum! Center.  While we're on the subject of venues dopily named after junk food, let's not forget the Dunkin' Donuts Center, in Providence, Rhode Island or The Taco Bell Arena in Boise, Idaho.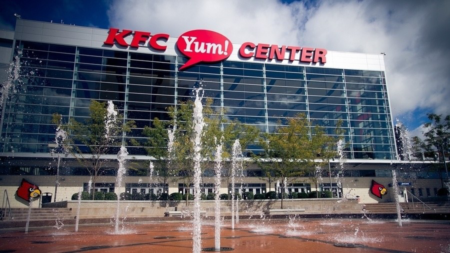 What kind of name is this?
If they're not playing in any of the aforementioned abominations, discerning musical artistes might be discomfited to find themselves rockin' out in the Jiffy Lube Live Amphitheater, Washington DC. I have to confess that, until I started researching this feature, I had no idea what Jiffy Lube is. Turns out it's a "brand of automotive oil change specialty shops founded in Utah" in 1971. Sure, there's a long history of connections between cars and rock music, but in these days of ecological concern, isn't there something just a tad vulgar about a music venue taking cash injections from a company founded on fossil fuel products? But, aside from my pious objections, it's just plain and simply a daft name.
Venue Named After Ticket Re-seller!
And surely there's something blatantly, glaringly wrong about The StubHub Center in Carson, California. StubHub is what is known colloquially as a ticket scalper, but more accurately as "an online ticket exchange company owned by eBay." One of StubHub's top sellers in the ticket reselling industry is Canadian Julien Lavallee, a hard-working fellow who "drew the attention of U.K.'s National Trading Standards (NTS) and CMA when he succeeded in controlling 310 seats for three of Adele's shows in London in 2016 for a total transaction of over $50,000 in less than a half an hour." And this company now has more than 120 partners, most of them being entertainment venues and sports teams.
Ask Gary Who?
As for the 1-800-ASK-Gary Amphitheatre, a 20,000 capacity venue owned by music promotions giant LiveNation in Tampa, Florida, some comfort can be  derived from the fact that it only existed for two years before overwhelming levels of customer objections to the sheer, unbridled stupidity of the name caused LiveNation not to renew the deal, selling the naming rights instead to another company so that it is now known as … wait for it … the MidFlorida Credit Union Amphitheatre .
Only In It For The Money
All of these hideous names exist only for the money. In terms of reflecting local history, or music history, or cultural values of any sort, they're meaningless, unless the only meaning in today's music industry is derived from making money by any means whatsoever.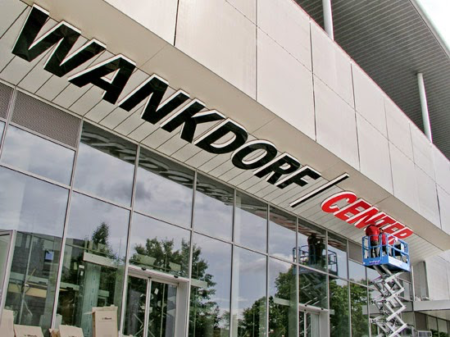 Let's not forget that there are other venues around the world with patently hilarious names. There's The Wankdorf Center in Berne, Switzerland, and the Middelfart Stadium in Middelfart, Denmark, but they're just funny. The KFC Yum! Center, The Dunkin' Donuts Center and the rest – they're downright disturbing.