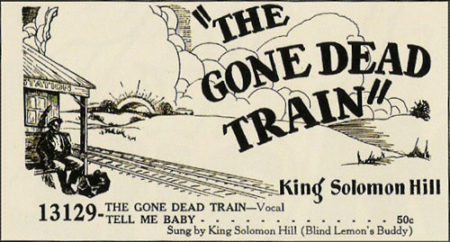 One of the joys of having created a vast, searchable music database (www.musicdayz.com) is that I can use it (and you can too) to quickly collect together information about specific topics and how they relate to music. The following list of Train-related music facts was put together simply by me entering the word 'train' into the search box in Musicdayz then sifting through the resulting entries to find the most interesting ones.
But, to get to the point of this post, trains have featured since the start of the last century as the subject of songs in popular music (Midnight Special, Freight Train, Take The A Train, Train Kept A'rollin', Trans Europe Express and countless others) but, when I recently encountered the fact that there is a British train engine named after a famous 70s punk band leader,  I became intrigued by the idea that there must be other real-life music-related events which happened on or involved trains. Here's a bunch of clues designed to help you find ten of my favourites, with the answers at the bottom of the post in case you find yourself tearing your hair out as you try to unravel the clues.
Be warned, the images with this post do not necessarily relate to the artists mentioned.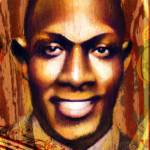 1.  1941, Dec 21 : A successful and influential Delta blues pianist who claimed that his musical prowess came from having made a deal with the devil, dies when his car is hit by a train at a railroad crossing in East St Louis, Illinois, USA. Can you name him?
2.  1943, Dec 15 : A big band leader, pianist and composer of such standards as Ain't Misbehavin' and Honeysuckle Rose, dies of pneumonia aggravated by his alcoholic excesses while travelling on the Santa Fe Chief train from Los Angeles to New York City. What was his name?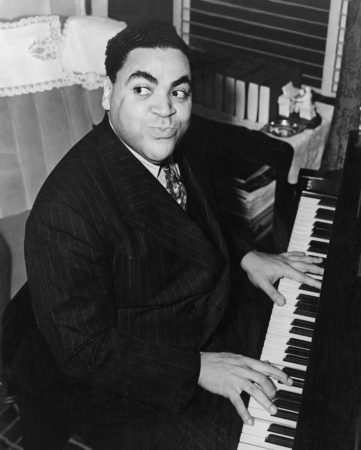 3.  1956, Dec 21 : What did Louis 'Satchmo' Armstrong hear from his carriage as his train pulled out of Euston Station, London, at the end of a UK tour?
4.  1964, Mar 3 : While filming a movie on board a train in East London, the guitarist of a successful band met a model who would become his wife and inspire one of his best-known songs. Can you name the guitarist and the model?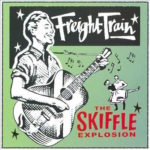 5.  1965, May 19 : A successful British band is travelling by train from London to Southampton to undertake a tv appearance. On the journey, the band's leader begins writing a song which will become a huge hit. Name the band, the songwriter and the song if you can.
 6.  1967, Nov 5 : A member of a massively successful band is lucky to escape without injury from the disastrous Hither Green Train crash in London, England, UK, in which fifty other passengers are killed. Who was he?
  7.   1974, May 8 : A pioneering British r'n'b bandleader dies aged just 36 under the wheels of a Piccadilly line train at Finsbury Park station, London. Most sources list the death as suicide. Who was he?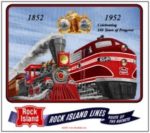 8.  1976, Apr 27 : A hugely successful British rock star is detained by police on a train trip from Russia to Poland when he is found in possession of books about the Nazis. He defends himself by stating that the books are for research on a project. Can you name him?
  9.   1987 Dec 14 : While heading back to Tokyo, Japan, on the Bullet Train after a show in Osaka, two members of a superstar glam-metal band become somewhat inebriated. They pour Jack Daniels over the heads of unsuspecting commuters and smear curry all over the walls. As their orgy of idiocy escalates, one member throws a Jack Daniels bottle at Mr. Udo, their Japanese tour promoter. It misses Mr Udo but hits a businessman in the back of the head. On arrival in Tokyo, Riot Squad police arrest one of the pair and trundle him off to jail. Can you name the band and its two drunken members?
  10.  2005, Feb 12 : A Class 47 railway locomotive, No 47828, is named after the frontman of an internationally successful punk quartet, at a ceremony in Bristol, England. Can you name him?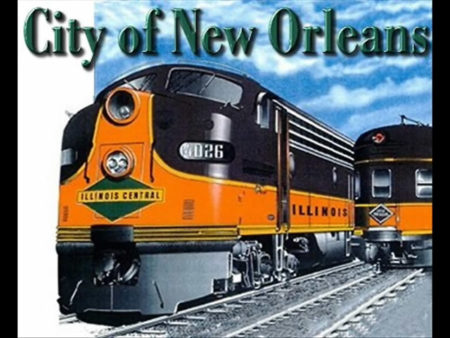 ANSWERS
1.   1941, Dec 21 : Peetie Wheatstraw was the successful Delta blues pianist who claimed that his musical prowess came from a deal with the devil.
2.  1943 Dec 15 : Fats Waller.
 4.   1964 Mar 3 : This happened while The Beatles were filming their first movie, A Hard Day's Night. The guitarist was George Harrison and the model was Patti Boyd who inspired his song Something (and several others).
 5.  1965 May 19 : The Who, Pete Townshend, My Generation.
 6.   1967 Nov 5 : Robin Gibb of The Bee Gees.
 7.   1974 May 8 : Graham Bond. Most sources list Bond's death as a suicide.
 8.  1976 Apr 27 : David Bowie.
 9.  1987 Dec 14 : These shenanigans were carried out by Tommy Lee and Nikki Sixx of Motley Crue.  Sixx was the one who was jailed, along with the band's manager manager Doc McGhee.
 10.  2005, Feb 12 : Joe Strummer, frontman of The Clash.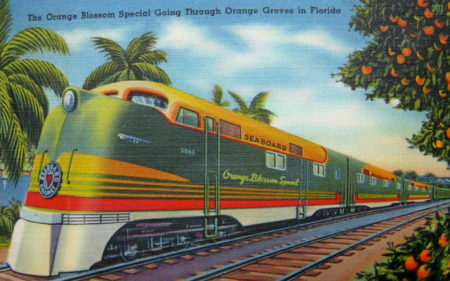 AND HERE'S A FEW MORE FOR GOOD MEASURE…
1965 Aug 5 : In Chatsworth, Los Angeles, California, Jan Berry of Jan And Dean suffers a broken leg when a train hits a camera car on the fourth day of filming the movie Easy Come, Easy Go. Seventeen crew members are injured, and the movie is cancelled.
1970 Jun 27 : The Band
,
Janis Joplin
, The
Grateful Dead
,
Delaney And Bonnie
, Traffic,
Buddy Guy
, Mountain,
Tom Rush
,
Sea Train
,
Melanie
and
Ten Years After
play the first of two days at the Canadian National Expo Grandstand, Toronto, Ontario, Canada, as part of the Trans Continental Pop Festival, a.k.a. the Trans-Canada tour or
Festival Express
since the mode of transportation was by train.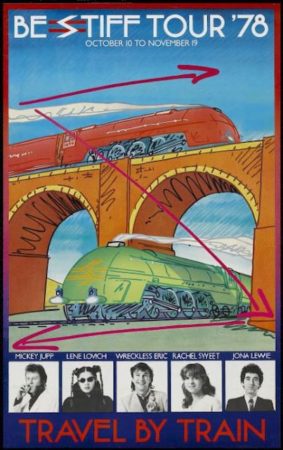 1978 Oct 10 : The second Stiff Records UK package tour 'Be Stiff '78', begins its 2-week run, featuring Wreckless Eric, Jona Lewie, Rachel Sweet, Lene Lovich and Mickey Jupp. The 33-date tour is undertaken by specially-chartered train, setting off from Olympia Station in London, England, UK, Europe, for the first gig of the tour in Bristol.
1992 Dec 28 : While in Japan,  during his Dangerous World Tour, Michael Jackson travels on the Superexpress train to Tokyo from Nagasaki where he has been visiting the Huis Ten Bosch amusement park with his brother Tito Jackson's three children.
1999 Apr 26 : Having long suffered from depression, Adrian Borland, founder of acclaimed bands including The Sound, The Outsiders and Second Layer, commits suicide at the age of 41 by jumping into the path of an oncoming train at Wimbledon Station, Wimbledon, London, England, UK, Europe.
2009 Oct 3 : A train is named Gracie Fields, in honour of the world-famed singer and actress from Rochdale, Lancashire, England, UK, Europe. The new nameplate on the Northern Rail Class 156 train is is unveiled at Manchester Victoria Station by Gracie Fields' nephew, Douggie Wakefield, in the presence of the mayors of Rochdale and Manchester.
2014, Feb 20 : 27-year-old Sarah Jones is hit and killed by a train on the first day of filming of the movie Midnight Rider beside the Altamaha River in southeast Georgia, USA. The film is a re-telling of the life of guitarist Gregg Allman of The Allman Brothers Band.